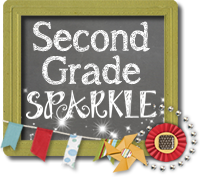 Kate from 2nd Grade Sparkle has a super cute linky going on right now that I just had to join in on. It's a linky party for When I was in ______ Grade. Go link up now, and link up pictures of you from the grade that you teach now.
I teach 2nd grade...in case anyone forgot. ;-) The pictures below were taken when I was in 2nd grade. The first one is the beginning of 2nd grade and the second one is the 2nd of second grade. 2nd grade was always my favorite grade. I had the best teacher! I'm so glad that I get the opportunity to teach a grade that I fell in love with such a long time ago.
Wasn't I such a cutie! :-) Here is me now with my adorable family. This picture was taken almost 4 months ago. I need to get family pictures down ASAP!
I hope everyone has a wonderful weekend!